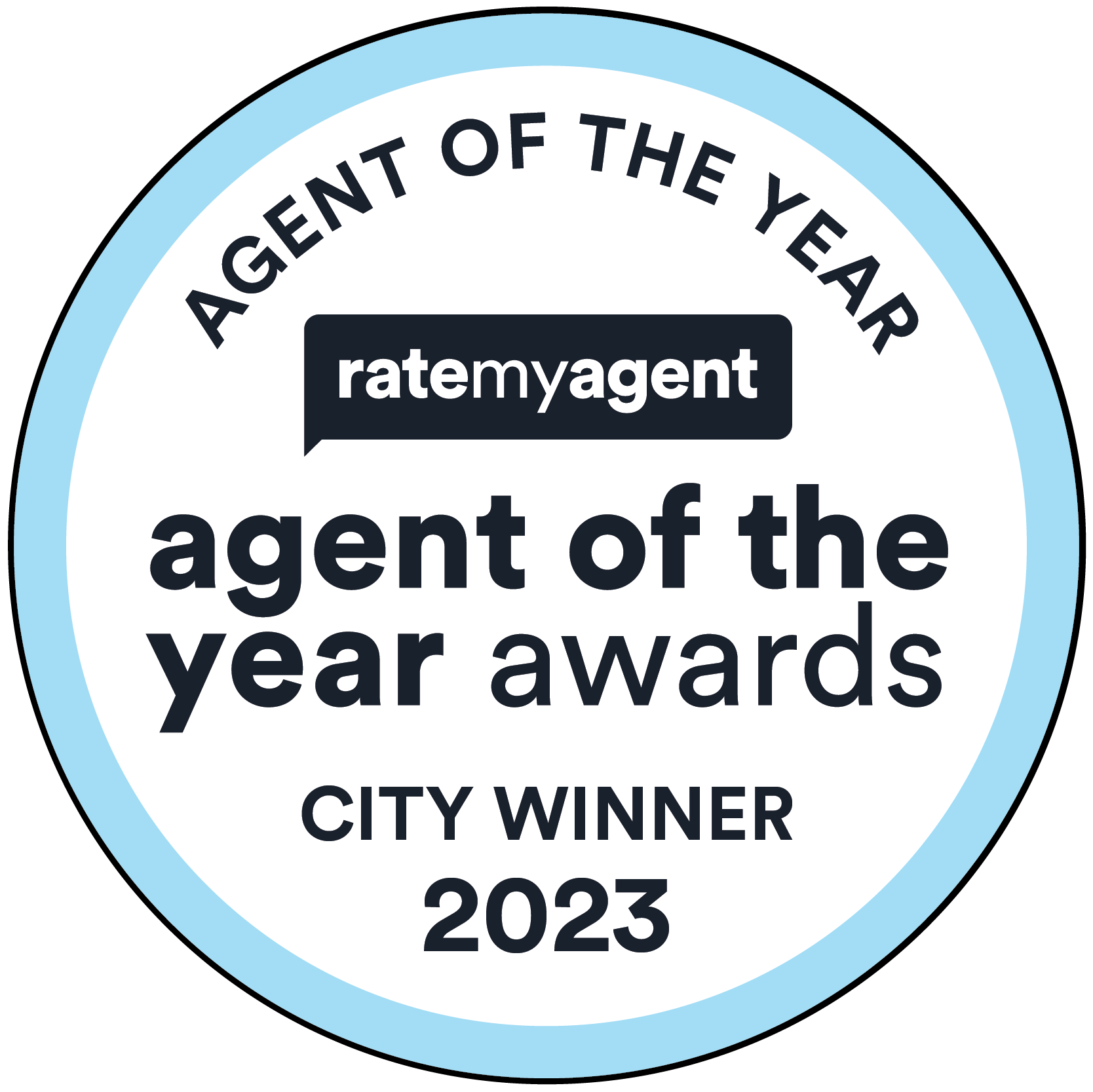 Reviews verified by RateMyAgent (RateMyAgent.com)
Recognized 2023 Agent of the Year Awards | City Winner | Tarpon Springs, FL

RateMyAgent reviews are verified through the MLS listings. The reviews are linked to Realtor.com agent profiles. The parties to the transaction are verified including the sellers' and buyers' agents. This establishes trust and credibility in the reviews for customers and agents.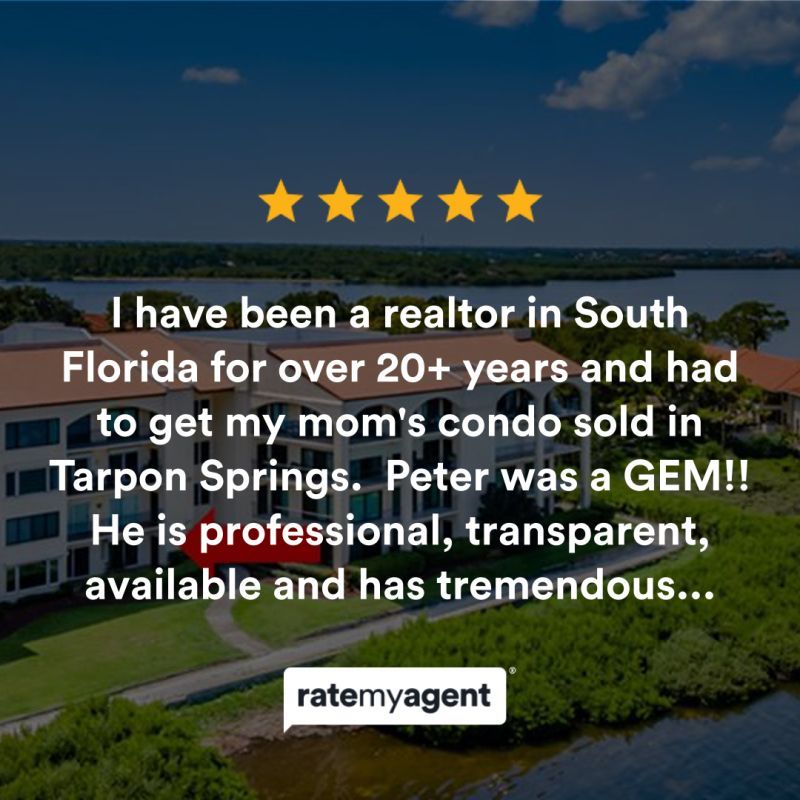 Could have not been MORE satisfied!!!
I have been a realtor in South Florida for over 20+ years and had to get my mom's condo sold in Tarpon Springs. Peter was a GEM!! He is professional, transparent, available and has tremendous knowledge of the market. I was able to put my trust in him and he delivered. Peter took the extra mile that sets apart a good realtor to a GREAT realtor!! If you are looking for that GREAT realtor Peter is it! Thanks again for all you did to get my mom's condo sold and for a job well done!!
Joy Fischer PA
Compass
Verified by RateMyAgent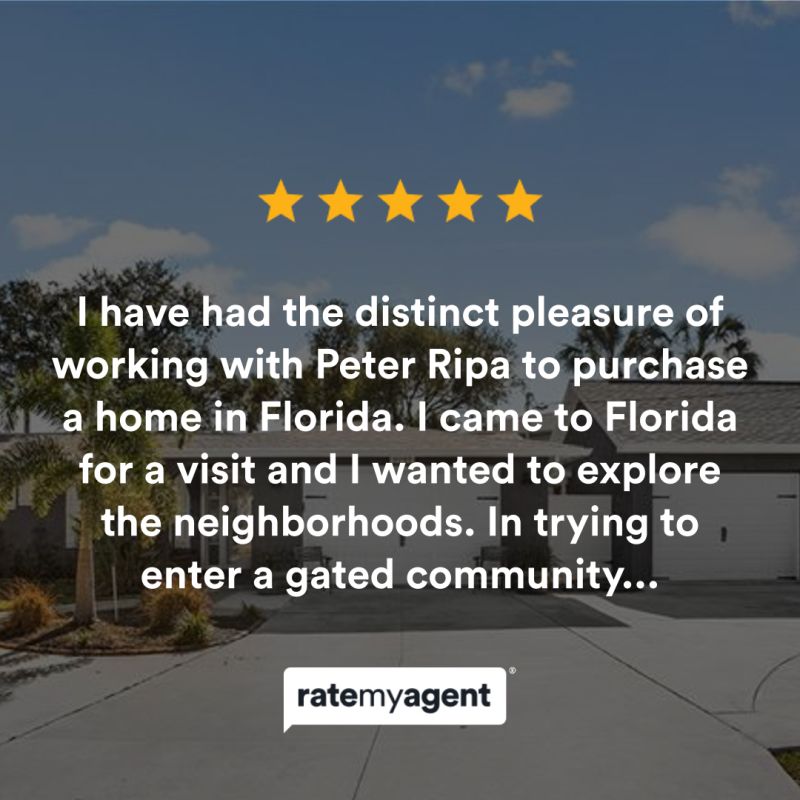 The Most Amazing Realtor
I have had the distinct pleasure of working with Peter Ripa to purchase a home in Florida. I came to Florida for a visit and I wanted to explore the neighborhoods. In trying to enter a gated community, the guard gave me the business card of Peter Ripa. It was a true gift. I returned to PA and my husband and I met Peter virtually to set up our next house hunting visit together. When we returned, Peter had our home tours compiled, confirmed and ready to show. He hustled all week with us and helped us to find our dream home. He was a great assist from the offer stage all the way through post closing. Peter walked us through our virtual home inspection as we were traveling. I have never worked with such an amazing realtor. I have had some disappointing interactions with realtors in the past so I was very skeptical. But Peter is brilliantly smart and truly knows the real estate market. He does all his homework on every house. He went to his network and got us great people for our home inspections and title company. It is a big decision to make such a big purchase. My husband and I put all our trust in Peter who knows how to handle long distance purchases. The minute you see Peter and shake his hand, confidence fills you and Peter's values, morals and ethics shine through. He is always very responsive and readily available to assist and he always finds you the answer to your questions! He is THE BEST!!
John & Jackie O.
Verified by RateMyAgent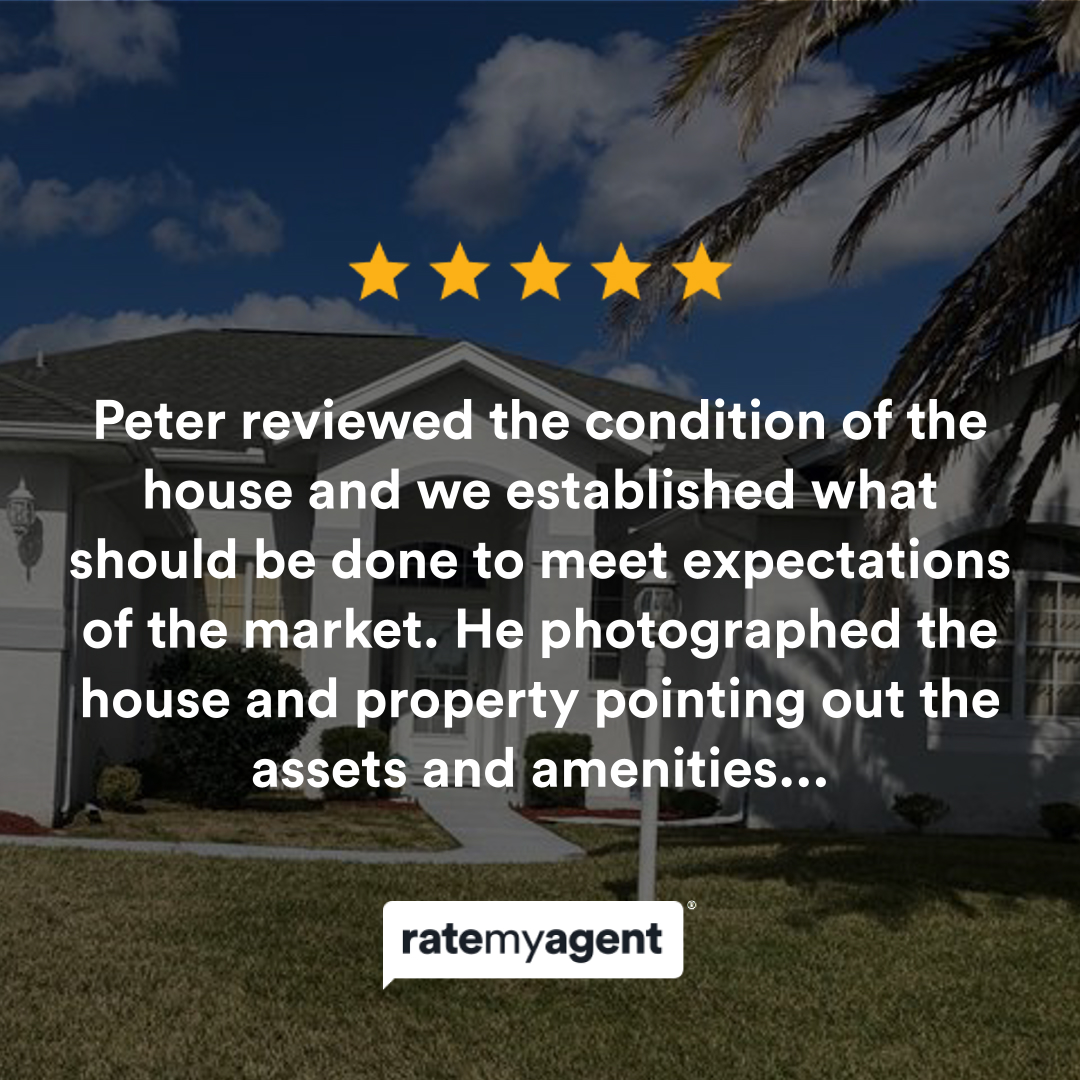 Peter started the sale process with a plan. He identified the market and a price range we could get.
Peter reviewed the condition of the house and we established what should be done to meet expectations of the market. He photographed the house and property pointing out the assets and amenities including the golf course within the community. He worked with the local CB realtor to find prospective buyers which proved to be beneficial as it generated the ultimate buyer. Peter handled all the paperwork coordinating efforts with the title company. Overall the process took just over a month which was great.
Jim G.
Verified by RateMyAgent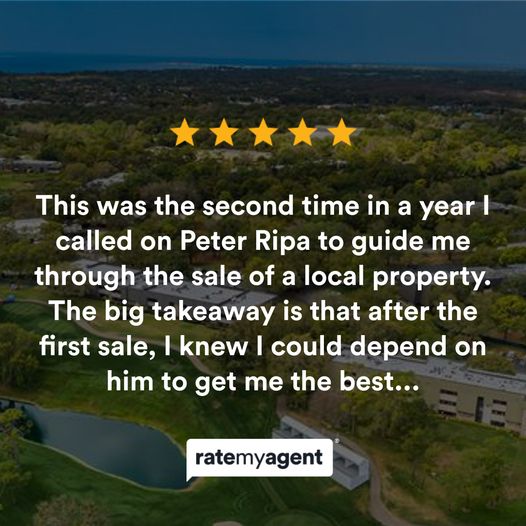 Two for Two Success
This was the second time in a year I called on Peter Ripa to guide me through the sale of a local property. The big takeaway is that after the first sale, I knew I could depend on him to get me the best value for the second. I especially appreciate his familiarity with all the rules and regulations of the condo/apartment associations. Great job.
Lynne B.
Verified by RateMyAgent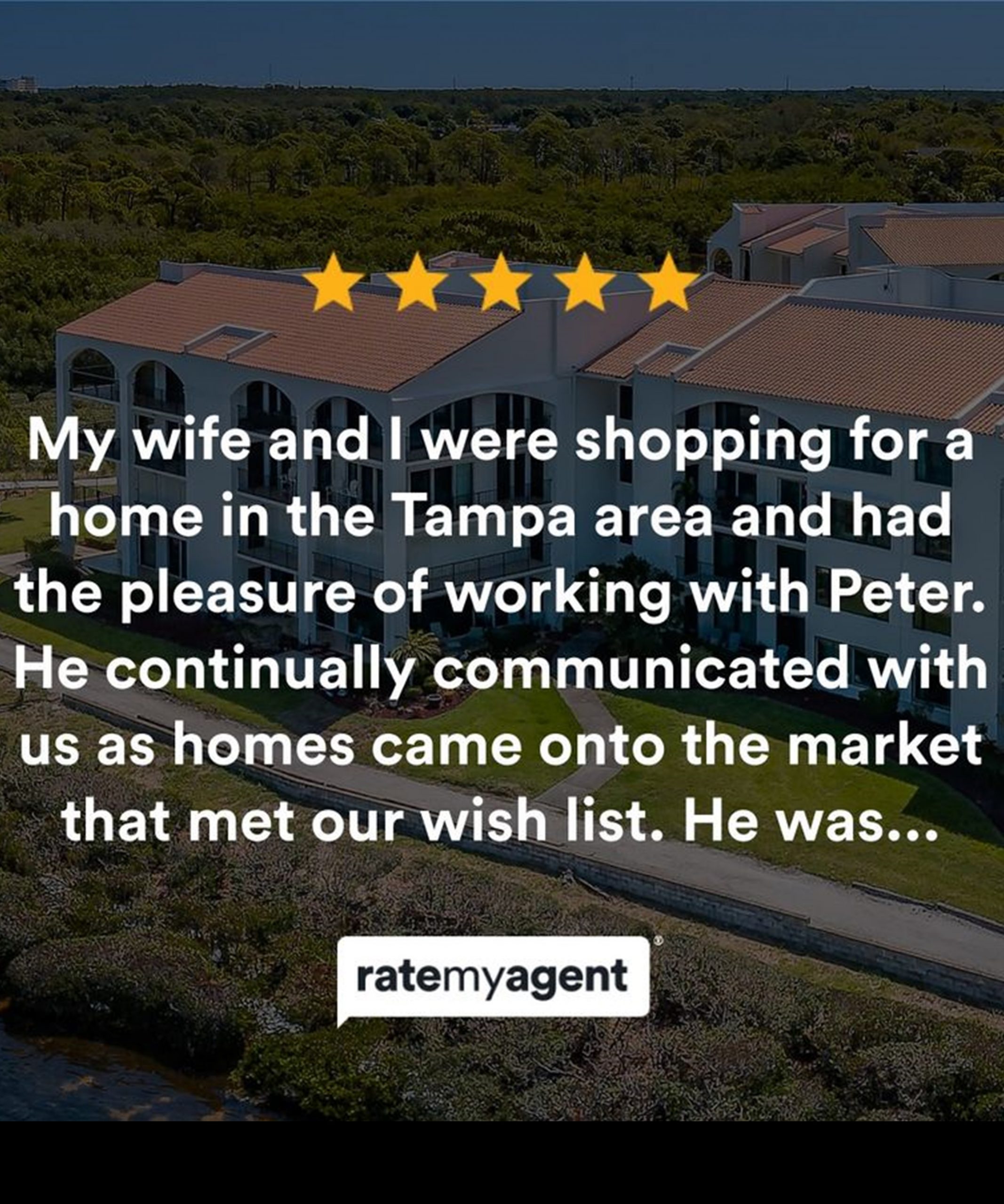 Peter Ripa is the Best.
My wife and I were shopping for a home in the Tampa area and had the pleasure of working with Peter. He continually communicated with us as homes came onto the market that met our wish list. He was always on time and prepared. We probably saw over 10 homes with him over several months. He was quick to prepare our paperwork and got us into contract within 24 hours. Quite frankly, I believe we would not have had the opportunity to purchase the home without Peter working so diligently. We will continue recommend him to family and friends without hesitation.
Scott & Theresa A.
Verified by RateMyAgent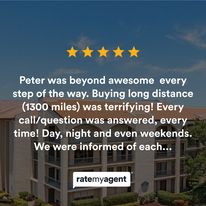 Could not have asked for better!
Peter was beyond awesome every step of the way. Buying long distance (1300 miles) was terrifying! Every call/question was answered, every time! Day, night and even weekends. We were informed of each step in great detail; explained with patience. We couldn't ask for more from a buyer's perspective. Our deepest gratitude!!
Raymond and Donna C.
Verified by RateMyAgent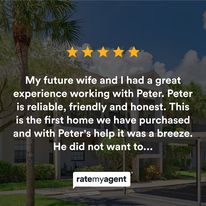 Thank you Peter!
My future wife and I had a great experience working with Peter. Peter is reliable, friendly and honest. This is the first home we have purchased and with Peter's help it was a breeze. He did not want to just find a place and try and sell it to us, his goal was our goal and that meant finding the home that was right for us. We feel very successful in accomplishing that goal and we are very thankful for Peter's assistance along the way.
Ted P. & Daniela R.
Verified by RateMyAgent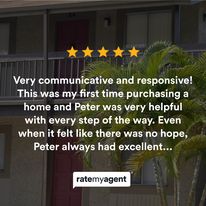 Very communicative and responsive!
Very communicative and responsive! This was my first time purchasing a home and Peter was very helpful with every step of the way. Even when it felt like there was no hope, Peter always had excellent words of advice from years of experience in the field. Even though it is a very challenging process for first time homebuyer, I never felt alone because Peter was always quick to respond and even quicker to communicate. I appreciate all the help that Peter provided in a very caring and professional way.
Hillary S.
Verified by RateMyAgent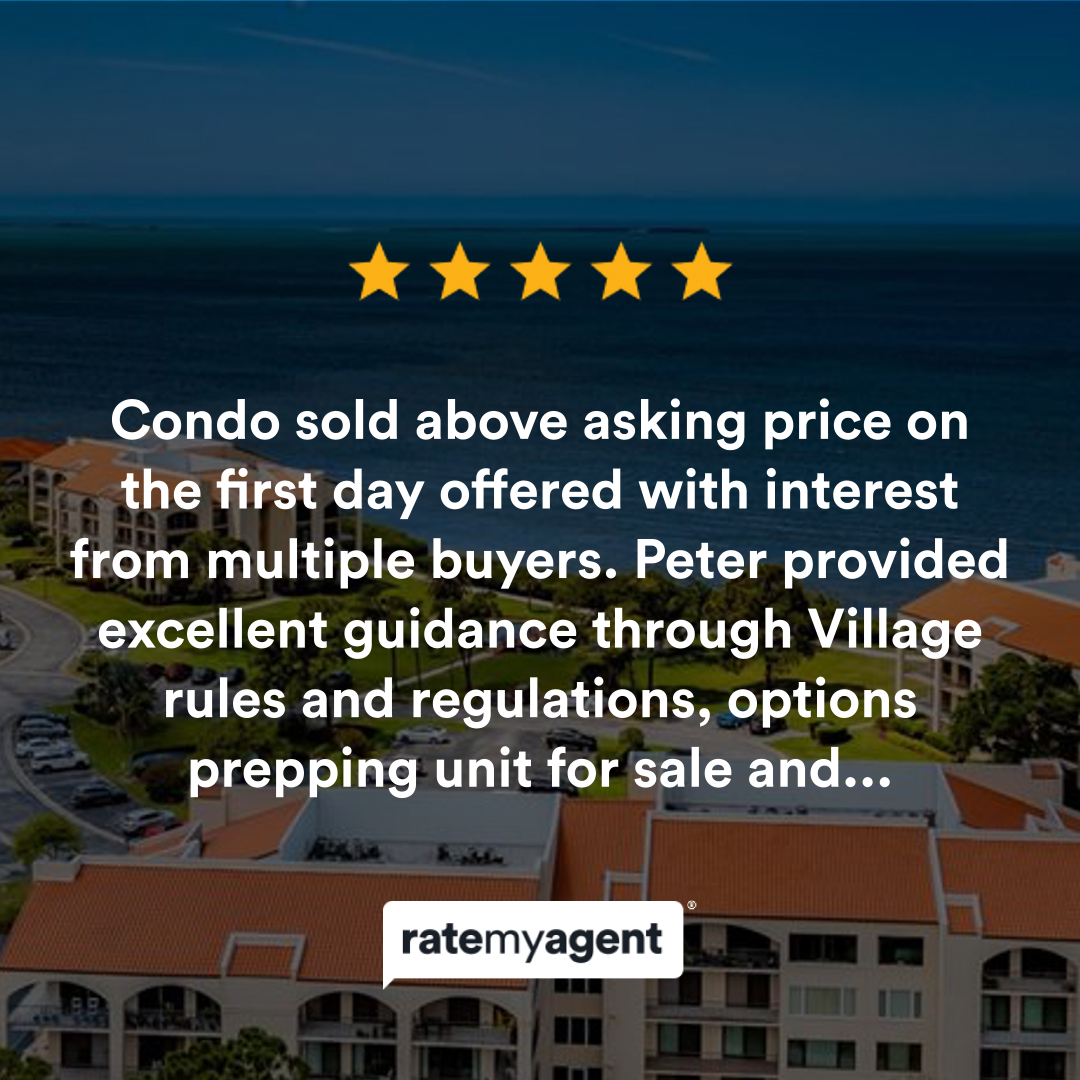 I chose Peter because I valued his experience with the local condo market.
Condo sold above asking price on the first day offered with interest from multiple buyers. Peter provided excellent guidance through Village rules and regulations, options prepping unit for sale and last minute chores. He even changed a ceiling light that burned out. He has definitely earned my recommendation.
Lynne B.
Verified by RateMyAgent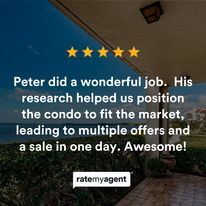 Great job on our condo sale.
Peter did a wonderful job. His research helped us position the condo to fit the market, leading to multiple offers and a sale in one day. Awesome!
Barry & Lisa B.
Verified by RateMyAgent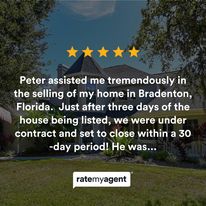 CLOSED WITHOUT DELAY!!
Peter assisted me tremendously in the selling of my home in Bradenton, Florida. Just after three days of the house being listed, we were under contract and set to close within a 30-day period! He was professional from start to finish, informing me of updates along the way. He went above and beyond to ensure I closed on my specified date without a hitch. I would definitely recommend Peter Ripa to assist in the selling or purchasing of your home - you won't be disappointed!
Rebecca C.
Verified by RateMyAgent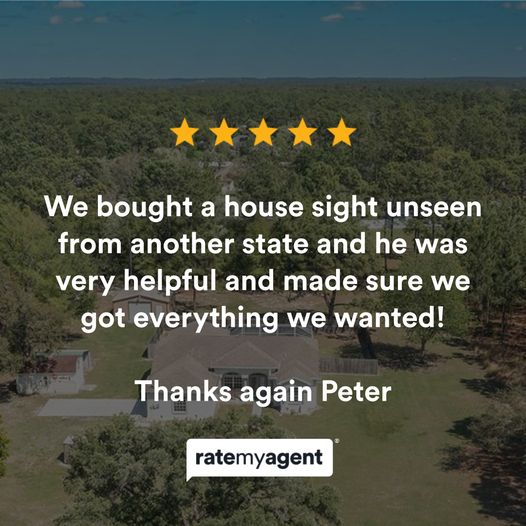 Great team
We bought a house sight unseen from another state and he was very helpful and made sure we got everything we wanted!
Thanks again Peter
Ricky R.
Verified by RateMyAgent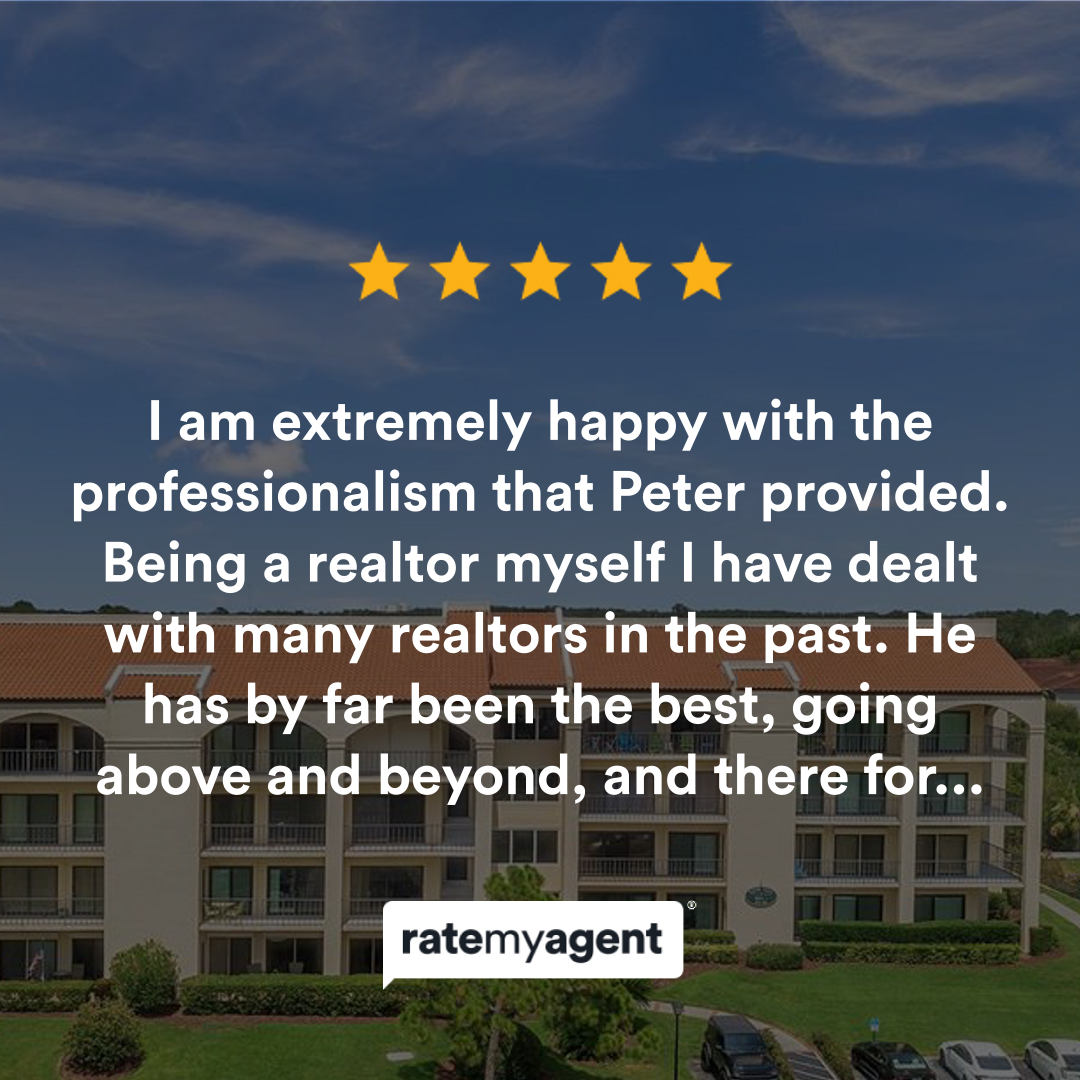 Excellent service
I am extremely happy with the professionalism that Peter provided. Being a realtor myself I have dealt with many realtors in the past. He has by far been the best, going above and beyond, and there for every step of the process, keeping in touch almost daily on all aspects and information of my home purchase. I was always treated respectfully and felt more of a friend than just a client. Peter was a great source of knowledge for local trades people for my repairs and/or upgrades. I will definitely be using him again!
Vicki P.
Verified by RateMyAgent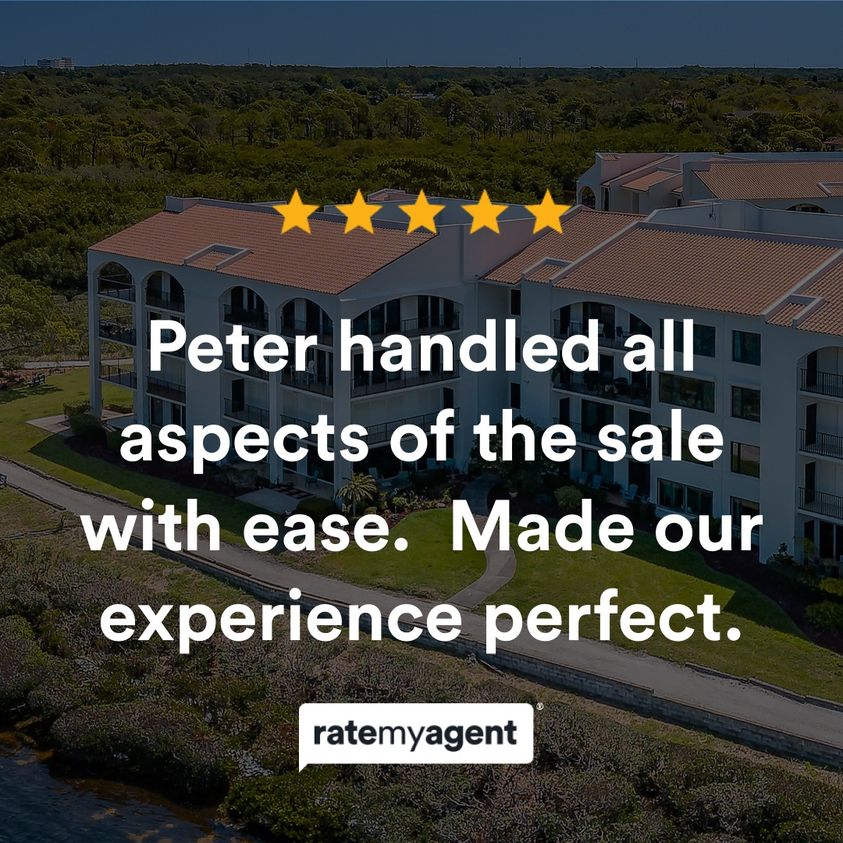 Outstanding pro!
Peter handled all aspects of the sale with ease. Made our experience perfect.
Rod & Merle M.
Verified by RateMyAgent